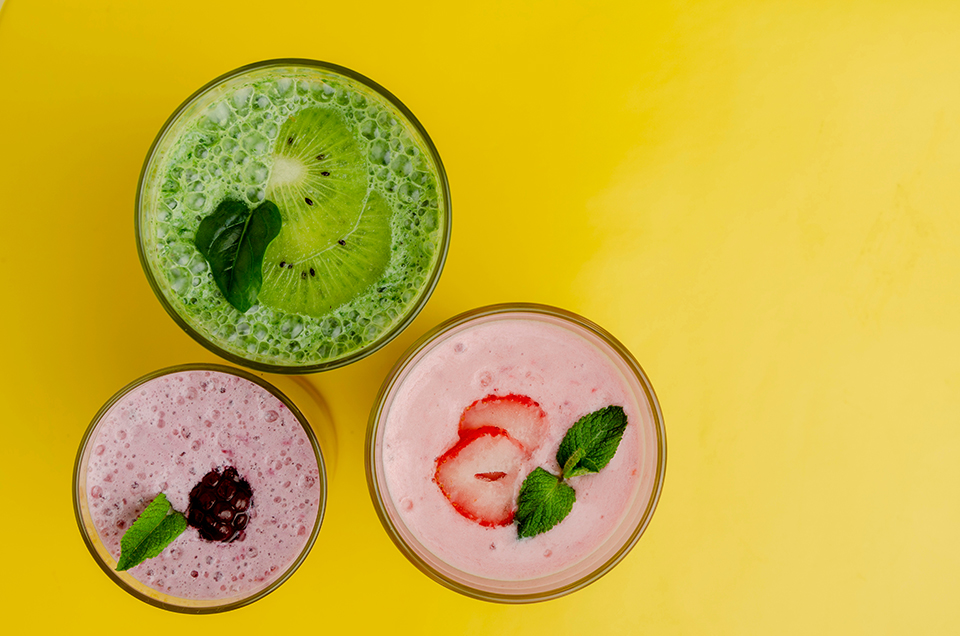 19 Aug

HOW TO BUILD A SMOOTHIE

Smoothies can provide a vast array of much-needed nutrients for individuals undergoing cancer treatment, especially for those with mouth or throat pain, difficulty chewing or swallowing, nausea, fatigue, or unintentional weight loss. To simplify the endless combinations of ingredients, try choosing at least 1 item from each category below to build a satisfying and nutritious smoothie.
Base
In general, it is a good idea to start with the liquid and other soft ingredients first for easier blending. Begin with 1-2 cups of liquid. You can always add more at the end if needed.
Almond, Soy or other Plant-Based Milk
Cow's Milk
100% Fruit or Vegetable Juice
Water
 Ice (1 cup, or as needed)
Fruit
The fruit is often the center of smoothie recipes and is arguably the most delicious ingredient. Fruit in general typically serves as an excellent source of fiber, anti-oxidants, potassium, and vitamins A and C. Begin with about 2 cups of your favorite fruit or fruit combinations.
Berries
Bananas
Pineapple
Mango
Peaches
Apples
Kiwi
Grapes
Cherries
Exotic fruits: papaya, dragon fruit, passion fruit, etc.
Vegetables
Round out any smoothie recipe by adding 1 cup or so of vegetables. Like fruit, vegetables provide a healthy dose of fiber and phytonutrients. However, vegetables provide vitamins and minerals that fruit may be lacking such as B vitamins, iron, and calcium, to name a few.
Leafy Greens
Avocado
Carrots
Zucchini
Beet Root
Sweet Potato
Pumpkin
Butternut or Acorn Squash
Cucumber
Celery
Enhancers
Enhance the calorie content or flavor profile of your smoothie by adding any of the following ingredients. Below are suggested amounts, however, these should be adjusted for personal taste or nutritional needs. (Calorie enhancing ingredients have been italicized.)
Yogurt (½-1 cup)
Peanut and other Nut Butters (1-2 Tbsp)
Powdered Peanut Butter (1-2 Tbsp)
Cocoa Powder (1-2 tsp)
Honey (1-2 Tbsp)
Vanilla Extract (½-1 tsp)
Coconut Oil (1 Tbsp)
MCT Oil (1 Tbsp)
Spices: turmeric, ginger, cinnamon (½ -1 tsp)
Boosters
Give a boost to your smoothie if needing to increase the protein or fiber in your diet. These ingredients also support
greater satiety so your smoothie sticks with you a little longer. Below are suggested amounts to add to smoothie recipes
but should be adjusted to meet your personal taste and nutritional needs.
Powdered Milk (¼ cup)
Protein Powder (1 scoop or 10-20 grams protein)
Chia or Flax Seed, Milled (1-2 tsp)
Rolled Oats (1/8–1/3 cup)
Smoothie Building Tips
Freeze fresh fruit/vegetables or use pre-frozen fruit/vegetables to eliminate the need for ice in your smoothie recipe. This will help to reduce the overall volume as well as maximize the nutrient content of every sip.
When adding tougher fruits/vegetables to smoothies, consider the strength of your blender. You may need to utilize slightly pre-cooked, peeled, or finely chopped ingredients to obtain the smoothest result.
For increasing the caloric content of smoothies try to avoid "non-fat" ingredients; or consider adding heart-healthy fats such as nut butter, coconut oil, avocado, and other plant-based fat sources.
If having difficulty coming up with ingredient combinations, try choosing fruits and vegetables in the same color wheelhouse and build from there.
Avoid adding sugar and let the natural sugars from the fruit ingredients do the sweetening.
Smoothie Recipes
For creative recipe ideas, here are a couple of links for simple and delicious smoothie recipes:
https://runningonrealfood.com/best-vegetables-to-add-to-smoothies/
https://cancer.livebetterwith.com/blogs/cancer/simple-smoothies-cancer-patients